Image Recovery (Mac and Windows)
Mar. 22, 2013 15:09 pm / Posted by Candice lee to Data Recovery Tips
Follow @applexsoft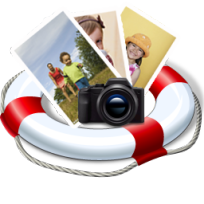 How to restore deleted images from hard disks or memory cards?
Did you delete images in your camera, memory card or PC by accident? Did you format cameras or hard disks? or Did you lose images with unknown reasons? Do not worry. You can restore any lost images from now on. All you need is to keep calm and get professional data recovery software. I will describe several reasons why you lose images, how to choose right software and some notes.
Reasons of missing images
There are many reasons why you lose images and common causes are listed below.
Deleting pictures in your computer or camera by accident.
Virus infections.
Formatting hard disks, USB drive or memory cards.
Equipment breakpoint, plugging or unplugging connecting lines incorrectly.
Data cannot read with unknown reasons.
How to choose the right Image Recovery software to restore images?
Whether successfully restore missing images or not, it depends on many aspects. A professional software is crucial.

Firstly, you should choose read-only and non-destructive software. It can not be written to.

Secondly, the software should support the format of the images that you want to restore.

Thirdly, the software can run on your operating system and is compatible with your hard drive or external devices, such as USB drive and memory card and so on.

Fourthly, it is able to restore missing images and data in all situations.
In addition, you should take the usability and support for preview into consideration.


AppleXsoft is a company to develop professional recovery software. It provides safe, reliable, powerful image recovery software for Mac and Windows systems. It can restore any formats of images, including RAW images. You should notice that Applexsoft Data Recovery Professional and File Recovery for Mac can not only restore deleted images in hard disks but also recover the images in external devices (e.g. USB, memory card, CD/DVD). But Photo Recovery software can only restore the images in digital media devices and can not restore files and images in hard disk. Compared with Applexsoft Data Recovery Professional, it preset some parameters for digital cameras and media formats. It is more suitable for restoring images and videos in digital cameras or memory cards. And it is cheaper.
Notes:
If you want to restore the images from hard disks in your Mac or Windows:
Windows and Mac system provide Recycle Bin that prevents user deleting files by mistake. If it is a normal deleted file, the file will remain in the Recycle Bin where you can restore. But it is not valid for external drives (e.g. USB device and memory card). In other words, deleting pictures in your USB device and memory card is a complete deletion.
Do not continue to work on a hard drive that contains missing data.
Do not install the software in the hard disk that contains missing data.
Do not try to repair your hard drive.
Do not install or save the recovered data into the partition that contains missing data. For example, if you deleted pictures in D drive, you should save the data into other partitions.

If you want to restore the images in an external drive, such as USB devices, digital cameras or memory cards, you should:

Immediately stop using your external drive. Do not save photos and files into the external drive.
Do not save the recovered images to digital media cards and this will erase all recoverable data.
If your computer does not recognize the camera, you need a card reader.
General processing steps of restoring pictures
Download and Install the software. If you restore the image in a memory card or external device, you should connect an external device or memory card to your computer.
Open the software and select the location you want to restore. That is your destination hard drive or media card.
The program will scan your destination hard drive or media card.
Once the scan is finished, select the picture you want to save.
Done, your images is recovered.