The most effective way to restore data from Ext2 and Ext3 partition.
Recover Lost Data from Linux Ext2, Ext3 on Mac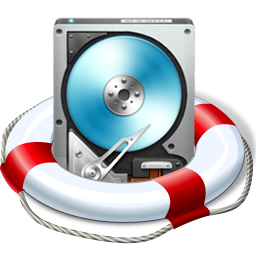 What is Linux?
You must be aware of Windows, Mac OS operating system, but do you know anything about Linux? Linux is a computer operating system which is commonly used to describe entire Unix-like operating systems which are based on the Linux Kernel. It is a successful example of free software and open-source development. Differ from unlike other commerical operating systems, all underlying source code of Linux is available to the public and can be used freely by anyone. Linux distribution provides lots of software related to its core system, more friendly installation and upgrades with its users.
Can lost data be recovered from Linux based system?
Of course it can be recovered, but recovering lost data from Linux based system is not as easy as other OS. We have to know the fact that there are only few data recovery software for Linux in the market. Because Linux has its own partition and files format, Ext2, Ext3. So it is really hard to find a data recovery software which can support these Ext2, Ext3 file system. But do not worry if you lose important data as a Linux user. Here my recommendation is Applexsoft File Recovery for Mac which can also help you recover lost data from Linux Ext2, Ext3 file system quickly and cost-effectively. This software can support Linux format Ext2 and Ext3 partition but it has to run on Mac operating system.
The following is a step by step guide to recover lost data from Linux Ext2, Ext3 on Mac.
Before getting started, you need to connect your Linux drive to a computer which uses Mac operating system. (It is just like to use your Linux drive as an external hard drive.) Then please install Applexsoft File Recovery for Mac on your computer.
Step 1. Open Applexsoft File Recovery for Mac and choose media type "Hard Drive" to continue. Then Choose the volume of your Linux drive shown in the list.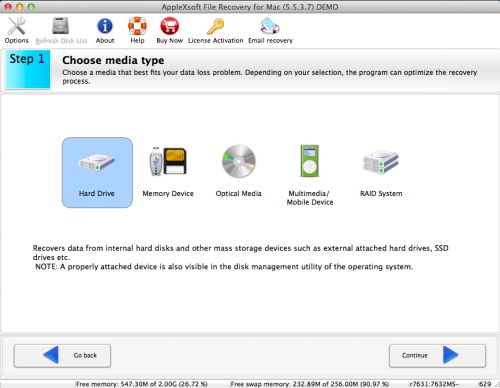 Step 2. Click "Continue", then you need to choose a recovery scenario that best fits your data loss problem. And as we recover lost data from Linux, you have to click the arrow for details on the left bottom and only select Ext2/3 for Linux. And continue to next step of checking your options.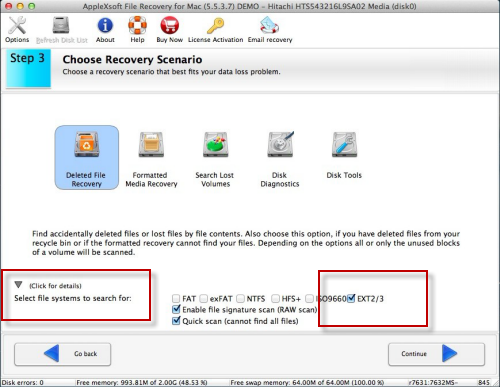 Step 3. The software will start to scan after continuing. You can also pause or cancel the process while scanning..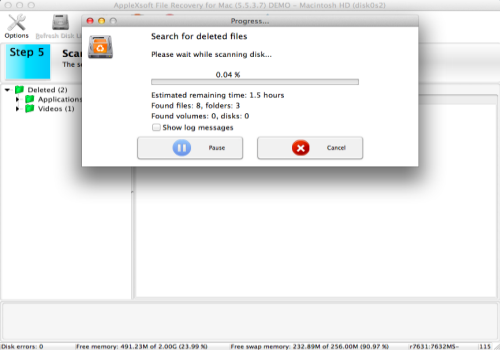 Step 4. When the scan is completed, the lost data in your Linux computer will shown in the list. You can click them for previewing to see whether they are the photos you deleted or not. Then just choose the data you need to recover and save them. .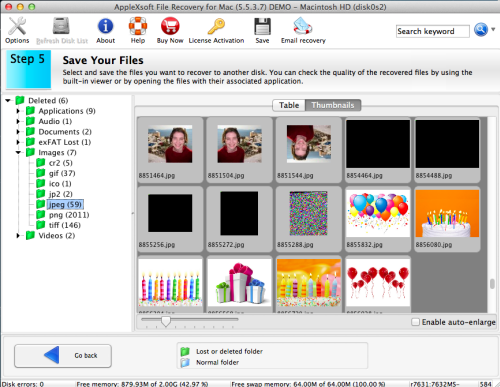 Now the whole recovery is finished and you get your lost data back from Linux EXT2/EXT3 partition. This software is really easy and simple to perform.
Give yourself some peace of mind with AppleXsoft File Recovery for Mac. Using our software, thousands of users have successfully recovered data from EXT2, EXT3 partition on Mac OS X.
Related Questions