Recover Pictures from Digital Camera's SD Card!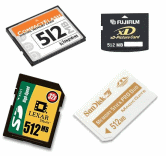 Most digital camera enthusiasts may meet the situations that deleted the Pictures inexpertly, for example the camera fell into the toddles hands. Sometimes when back from the journey we can only find that the computer cannot recognize the SD card. Most people cannot find out the way for the SD card recovery and just lost the Pictures. Relax, please. The followings are some ways you can try for SD card recovery and Pictures Recovery.
1. Repair the SD card the computer cannot recognize. If you meet this situation, try to take the SD card out and put it back in. On rare occasions, computers don't recognize that the information on the card changed. After the card is removed and reinserted, the computer should reload it. You can also try refreshing the window by right-clicking and selecting "Refresh" from the list. This is the basic method you can try to find your SD data back.
2. Check your digital camera and make sure the SD card is inserted right and the Camera settings are correct. Sometimes the SD card may not insert correct or camera's settings may have been changed and the data was saved to the internal memory so you cannot find the pictures on the SD card.
3. Recover Pictures and make a SD card recovery for the deleted Pictures.
AppleXsoft Photo Recovery
is the standard in SD Card recovery. It is a professional and comprehensive recovery software for SD cards, Digital Cameras, XD cards, Memory Stick™s, SmartMedia, CompactFlash, Sim cards, and most other types of digital media. Whether files have been deleted accidently, Digital Cameras has been formatted or SD Card corrupted, or even the media files missing with any unknown reasons,
AppleXsoft Photo Recovery
can recover your pictures with quickly and effortlessly!
There are some more tips for you before recovering your pictures. The first one is, do not use your SD card for any other data transfer or storage because it may cover the original files. The second is, do not storage the recovered data in the lost data's folder. It may also cause the conflict problems. So how about the result of your pictures recovery ?
With AppleXsoft Photo Recovery, you can recover deleted pictures, photos in 3 simple steps:
Select the target device.
Choose the type of image file you are looking for, or select the model camera you are using.
Click "Start Scan" to start the scanning process. and your files will automatically be saved in the destination folder
Related Questions