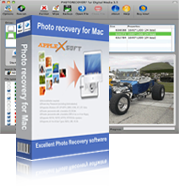 Mac Partition Recovery Software
Simple steps to recover lost or deleted partitions on Mac OS X !
If you have lost partition or strange problem with your Mac hard disk partitions, you can try
AppleXsoft File Recovery
.
It feature a powerful Mac Partition Recovery that designed to help recover lost partitions and/or make non-booting disks bootable again when these symptoms are caused by faulty software, certain types of viruses or human error (such as accidentally deleting a Partition Table).
With AppleXsoft File Recovery for Mac, you can fix HFS+ partition table, find lost Mac partitions, find boot sectors, recover deleted Mac partition, recover other file system components, Undelete files from Mac partitions, and so on.

Click on the green button above to start your free trial today. If you are using Windows OS, please download the
Data Recovery Professional
This powerful Recovery software offers perfect, safe and secure mac partition recovery in such cases like:
Lost or Deleted Partitions
Formatted Partitions
File system or partition corruption
Hard drive crash
Partition resizing
Boot sector and master boot record corruption
Virtually any logical disk disaster .
Macintosh Operating system consists of local partitions or logical drives such as:
HFS (Hierarchical File System)
HFS+ (Hierarchical File System).