Free Download Fully Functional Trial Version
AppleXsoft Data Recovery offers fully functional evaluation version (Saving Option DISABLED) of its products in the hopes that all customers will fully evaluate the software before making a purchasing decision.
Note:
Do not save downloads and do Not install data recovery products to the drive that needs to be recovered!
All our Mac software products are built as Universal binaries, meaning they run natively on both the Intel and PowerPC platforms.
Also, Mac OS X 10.9 Mountain and macOS Catalina 10.15 is fully supported.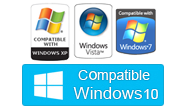 Related Questions