Bring accidentally deleted emails and their attachments back to life.
Recover Deleted Email Messages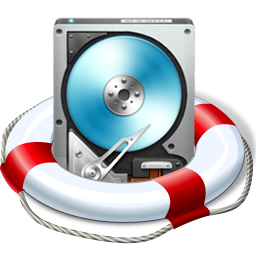 Using email program to send or receive emails has become a popular way for people to communicate with each other through Internet, and many companies also use Emails for business. But sometimes we may delete important Emails by accidental operation. Of course, you can get these emails back in the deleted item folder. Because deleted Emails are moved to the deleted item folder automatically. Here the problem is what if you emptied the deleted item folder.
You don't need to be worried if this situation happens. In fact, the deleted emails are not erased forever. You can still find them back as long as they have not been overwritten. What you really need is a reliable and safety email recovery software. AppleXsoft Data Recovery Professional and File Recovery for Mac are absolutely what you need to help you recover deleted or lost email files. Both can support Outlook, Outlook Express, Mozilla EML, Eudora, Becky, and Windows Live Mail. It can even recover deleted email attachments. Please use the right version which suits your computer to recover. (Data Recovery Professional is for Windows; File Recovery for Mac suits Mac).
Now let's try Data Recovery Professional as an example to recover deleted emails in 4 simple steps.
Step 1. Install AppleXsoft Data Recovery Professional, you will see the following interface after opening it. Then click the pull-down menu "Tools > Email recovery" . By selecting Email Recovery from the Tools menu, you can view a selected email database type via the in-build viewer.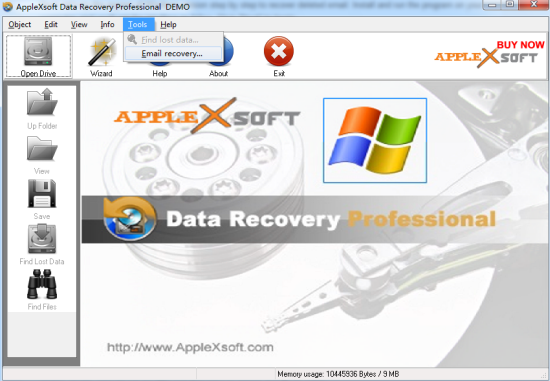 Step 2. You will see the new mail viewer interface. Now you need select mail data drive and choose a folder where to start finding mail data at first. Generally, email data is saved in drive C. So you just need to select drive C on the right list.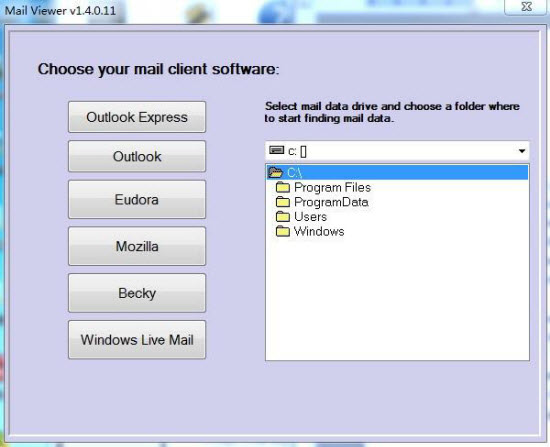 Step 3. Then please choose your mail client on the left list. The scan will start once you choose. It may spend long time, please be patient.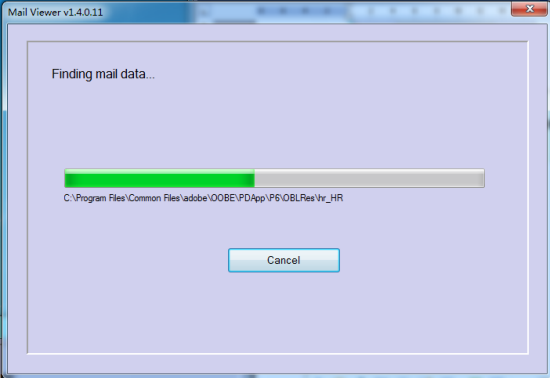 Step 4. When the scan is completed, you can check folders on the list. Then you will find your deleted emails. The program attempt to show both existing and deleted emails that you may print or save to hard disk. Click "Save Email" to choose a folder to save them. Clicking the Back arrow will return you to the Data Recovery interface.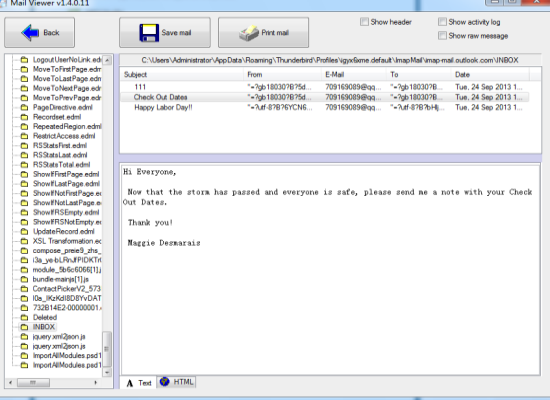 Now your deleted important emails are back!
AppleXsoft Email Recovery supports recover email messages from the most popular email clients, including:
Microsoft Outlook (All Versions)
Microsoft Outlook Express (All Versions)
Windows Mail (Vista Mail)
Eudora
Becky
Mozilla
Give yourself some peace of mind with AppleXsoft Email Recovery – recover deleted emails.
How to recover data in various cases