Recover files from USB drive on Mac OS X
USB flash drives also are called pen drives, key drives or simply USB drives.
A USB flash drive is a convenient portable storage device that allows you to download all types of files from one computer and load them into another or into your laptop computer. You can plug them into any computer that has a USB port. however, If you find that your USB flash drive is corrupted, formatted or files were deleted, there are flash drive recovery programs available to assist you in bringing your USB flash drive back to life.
AppleXsoft Photo Recovery for Mac
is all-in-one
USB flash drive recovery
software designed for Mac users, It enable us to recover deleted files from USB flash drive, memory cards. The file types that can be recovers includes photos, videos, music, documents, etc.
To recover your files from a USB flash drive on your Mac, please follow these steps:
Step 1. Free download
AppleXsoft Mac Photo Recovery
, and install it. the program support Mac OS X 10.6 or Later.
Step 2. To recover files from USB, you need to Plug the USB flash drive into the USB port of your computer.
Step 3. Then run AppleXsoft Photo Recovery for Mac and Verify that your Mac computer has a device driver for the USB flash drive.
Step 4. Choose the type of files you are looking for.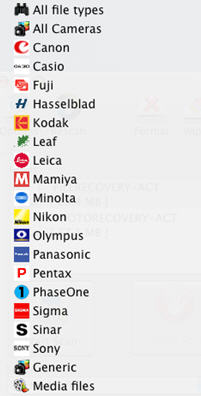 Step 5. Click the Options button and select the destination to save the recovered files. Do not select your USB flash drive as the destination, as this will destroy the files on the USB and it will not be recoverable! Choose a separate drive and folder. The default is the user's home folder.

You can also choose to save the files by category in the Options screen. This will save the files in subfolder categories in your destination folder.
Step 6. Click the "Start Scan" button, You should now be able to view your deleted files in the program preview window! Your files will automatically be saved in the destination folder.

When the scan is finished, you will get a scan completed message.

Done!
You may find AppleXsoft Photo Recovery useful if…:
you deleted one or more files from a USB flash drive by accident, and want them restored.
you deleted some Photos or Video from your USB flash drive, and want to recover them.
your USB flash drive is formatted, and want to recover files form formatted USB drive.
you came across an old USB drive of yours (or someone else's) that's been corrupted or formatted, and would like to see what its previous contents were.
Related Questions