Recover photos from external hard drive
Experience of Using AppleXsoft File Recovery for Mac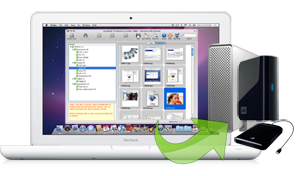 I truthfully want to thank AppleXsoft's Mac File Recovery Software which helped me recovered my lost photos from my external hard drive.
My photos were lost in June 2013 after the Internet become spotty on my MacBook. I tried everything to fix it. Failing at that, I was forced to wipe the computer clean and start again. I backed up all my important data, which consisted of photos and videos. My documents live in the cloud. With my photos and audio library safely on an external hard drive, I felt safe in the transfer. My photos were especially dear to me -- a gargantuan 35 Gigabyte library with nearly 28,000 family photos including photos of my daughter's first years.
The wiping clean and starting a new went great. When I had the new Mac OS X Mountain Lion on my laptop, I used my Time Machine backups to restore my iPhoto library. It appeared to work okay. When I opened iPhoto, my heart sank as all but a handful of the hundreds of Events were empty, only filled with blank triangular space-holders. I looked at all my Time Machine backups and realized the most recent ones were filled with an iPhone library that was just larger than 4 Gigabytes. My original iPhoto library was larger than 35 Gigabytes. The iPhoto library had been corrupted at some point prior to the wiping clean of the laptop and I had not noticed until now. The dread filled me as I thought of the thousands of photos now unrecoverable. I first scoured the internet and found that others had experienced the same problem. I worked on the tips and tricks to correct my iPhoto library, but to no avail. I then sought the help of Apple. My laptop was out of its warranty phase, but I was able to purchase phone support for $19.00. I spoke with five technicians over a span of a week. A senior technician at the end of hours on the phone gave me the prognosis: an apologetic "we tried everything." Despite this, I was unperturbed. I started researching photo recovery programs online. The photos were on my external hard drive from the time when the iPhoto library was not corrupted. I had a feeling they were on the drive. I read forum after forum with reviewers swearing by some programs and others writing that the same program was useless. I downloaded a few trials of advanced photo recovery software for Mac OS X, and I found that some photos were recoverable. This piqued my interest. I then read about AppleXsoft File Recovery for Mac on one of the forums. The reviews were positive and I was encouraged. The cost was high at $99.00, but I was willing to risk it. I purchased AppleXsoft File Recovery for Mac. I activated the software with relative ease and began the arduous search and interrogation of the external hard drive. Slowly the file names started appearing. Success!
AppleXsoft File Recovery for Mac was able to find the photos from external hard drive. Mac OS had destroyed the file information meta data (data photo was taken and the file name), but I was able to recover photos from external hard drive in the relative order they were added to my computer. It was a great feeling. Thank you AppleXsoft for creating this software. I had also sought technical help while recovering the photos and received great email support from Feeling Xiwen.

Download free trial version to scan your external hard drive and see the recoverable photos.
Please follow these steps to recover photos from external hard drive on Mac OS X:
Connect your external hard drive to Mac computer with the USB cable.
Launch Program, Double-click the program icon to runs Mac File Recovery software.
Select the media drive, The first step in the recovery process is choosing the external attached hard drives that you are trying to recover photos from.
Choose a recovery scenario that best fits your data loss problem. Please note that there are several options that you can choose.
Scan external attached hard drive, Click "Next." The software will automatically scan the external hard drive you have selected. Depending on the size of the external disk the scan process can take several hours!
Saving your photos. When the scan is finished, you will get a scan completed message dialog box. and data that was found will be displayed in a list of files and folders. To save the data, you would select the files on the right side of the screen and click the "Save" icon in the toolbar.
Note:
Do not save photos back to the same disk you are scanning. Always save the data to another location!