Mac Partition Recovery Software!
Dec. 23,2012 17:09 pm / Posted by Candice lee to Recovery Software Tips
Follow @applexsoft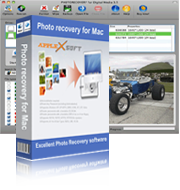 If you have lost partition or strange problem with your Mac hard disk partitions, you can try AppleXsoft File Recovery.

It feature a powerful Partition Recovery that designed to help recover lost partitions and/or make non-booting disks bootable again when these symptoms are caused by faulty software, certain types of viruses or human error (such as accidentally deleting a Partition Table).

With AppleXsoft File Recovery for Mac, you can fix HFS+ partition table, find lost Mac partitions, find boot sectors, recover deleted Mac partition, recover other file system components, Undelete files from Mac partitions, etc.