Configuring AppleXsoft Photo Recovery for Mac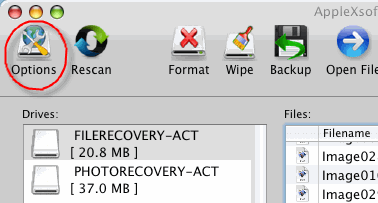 When you launch AppleXsoft Photo Recovery for Mac for the first time, the default configuration is set to save the recovered data in the user's home folder.
This configuration can be changed by clicking the Options icon in the tool bar.

The Options screen will allow you to change the default location for your saved files.
It will also allow you to change the parameters for displaying the drives on the system, as well as saving the files by category in the destination folder. Changing these options from the default is not recommended.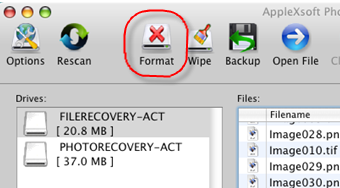 Sometimes, formatting a card may be necessary to clear an error, or possibly assist with the recovery process. The Format button opens the standard format dialog. Choose DOS Format, and click Erase to format the card. Then it can be scanned again with AppleXsoft Photo Recovery for Mac.
It is also a good idea to use the format command on a brand new card before using in the camera for the first time. Then, once you insert the card in the camera for the first time, use the camera format or initialize feature to prepare the card for use in that particular camera.
Please be sure that you are familiar with the format command, and any applications you have installed on your system that may affect the format command. Some third party products can alter the format command for digital media and the format can become a destructive format!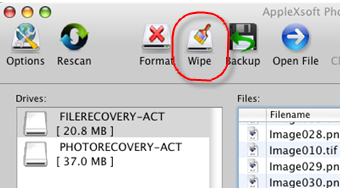 The
Wipe function
will completely erase a digital media card. This is sometimes necessary to clear errors from a card after recovery.
Wiping a card will also assure that nothing remains on the card at all if you intend to use the card in another application or digital media device.
Please note that the wipe function is non-recoverable, even with AppleXsoft Photo Recovery for Mac! Only wipe the card if you are certain that you do not need the data anymore!
Backup function will allow you to make a backup image of the card. This can be used to scan instead of the card in the case where the card is giving intermittent errors. Or it can be used to store the image of the card so that the card can be reused and the data still preserved. This image of the card can be later scanned to recover the pictures if desired.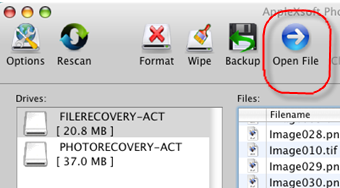 Open File allows a stored image of a card to be opened for scanning as if it were an actual card. This is useful in the case where a card image has been stored, and the pictures must be recovered from the image. All of the same options are available as when scanning a media card. When the scanning is finished, click the Close File icon to close the file.
Ready to Try or Buy?
4.81MB

$49.95
Related Questions