The ultimate quick and easy to use Sony RAW .ARW/SR2/SRF Image recovery solution.
Recover Sony RAW .ARW/SR2/SRF Photos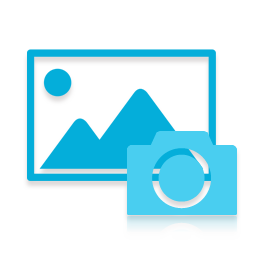 As all know, digital technology is getting closer and closer to our daily life. One obvious aspect is that more and more people like to use professional digital cameras instead of traditional cameras. As a world-famous brand which produces digital productions, Sony has digital cameras with high quality and Sony camera are really popular among people. But generally the photos taken by Sony can output as RAW or JPG format. And due to the fact that different camera brands output photos into different RAW formats, it is really inconvenient to deal with the RAW photos. You have to use the special photo software provided by the manufacturer or just find fitting programs on internet.
Why Do You Need AppleXsoft Photo Recovery Software?
But once you lose your RAW photos when your Sony camera is cashed or you format the memory card by mistake or you have other reasons, you will find that it's really a big trouble for you. Because the manufacturer never gives you a data recovery program and it is really difficult to find RAW photo recovery software as many software do not support the RAW format of Sony.( The RAW format of Sony is .ARW/SR2/SRF) So that is the reason why AppleXsoft developed AppleXsoft Photo Recovery. This software can perfectly support almost all RAW formats of all camera brand. So if the ARW, SR2 or SRF photos in your Sony camera are lost, you can use AppleXsoft Photo Recovery to recover these ARW/SR2/SRF image files.
The following is the tutorial about the whole process of recovering Sony RAW ARW/SR2/SRF photos on Mac with AppleXsoft Photo Recovery for Mac.
Step 1: Install and Open the Program
You can go to AppleXsoft official site to download Photo Recovery for Mac and install it on your Mac computer. Then you can connect your Sony camera with Mac computer via USB or you can also use a card reader. Once you open the program, the main screen interface will come to you. You can click the " Option" in the upper left conner to set some basic parameter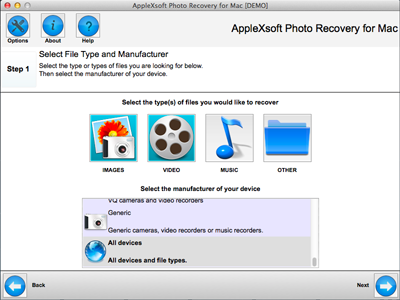 Step 2: Choose the Manufacturer of Your Camera
Also in this main interface, you need to select the file types and manufacturer. In order to recover Sony RAW image files, you can find Sony in the list. You are also recommended to choose "All devices" which support any device and any file type. Then click "Next" to a new interface.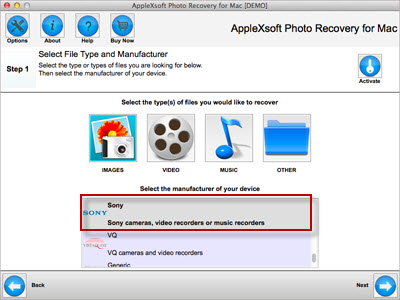 Step 3: Select Available Disks and Volumes.
Here you will see your physical and logical devices connected to your computer are displayed. You need to choose you Sony disk or volume. If your memory card is corrupted, you can use "Save Media Image File" to create a image file of your Sony memory card and then open the media file for recovery. Then go to the next step.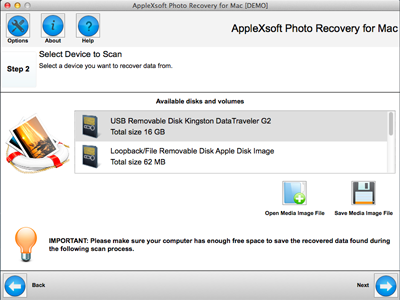 Step 4: Check Options and Set Save Destination
This step will display all the options you selected before. You can go back to change the options. And at the lower right corner, you can see the "Change" icon. Please click it to select the destination folder you want save recovered photos.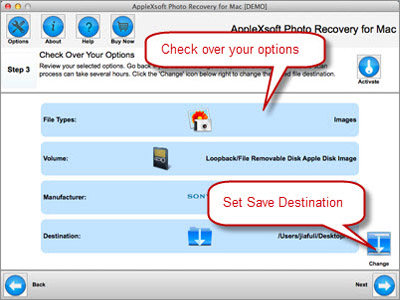 Step 5: Scan and Recover
Once you click "Next" , the program will start to scan your Sony camera automatically. The top of the preview window will scroll through thumbnails of scanned pictures. You can click on a thumbnail picture to view the properties of the picture. When the scan is finished, you can select the photos you want and then Click " Next". Then these photos will be saved into the destination folder you have chosen before.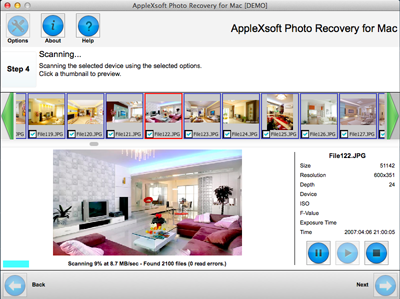 Step 6: Recovery is completed.
Now the Sony Image recovery process is completed successfully. You can go to the folders and you will be surprised by the recovered photos over there!
You may find AppleXsoft Photo Recovery useful if…:
you deleted one or more RAW Image CRW, CR2 files from your Canon camera by accident, and want them restored.
your Canon camera is formatted, and want to recover RAW images form formatted memory card.
you deleted some Photos or Video from your memory card, and want to recover them.
you came across an old memory card of yours (or someone else's) that's been corrupted or formatted, and would like to see what its previous contents were.