Please follow the quick and easy steps below to begin the data recovery process
Before getting started your success in recovering files depends a great deal on how the disk is handled and the amount of information written to the disk after the deletion occurred:
Note: Do NOT continue work on a hard drive containing lost data.
Never install software to a system containing deleted files you wish to recover.
You should not use the system with the deleted files to create documents and folder, surf the Internet, or check mail so on.
Do NOT reboot or shut down the system.
The more activity the less of a chance of recovery.
DO NOT run any other partition repair utility.
DO NOT defragment your hard drive or execute SCANDISK in a deleted recovery situation. Doing so will likely remove all remnants of the file you are trying to recover.
AppleXsoft Data Recovery was designed to run from the CD-ROM or from a directory on another partition or network drive. It is not recommended that you install the software on the work system; temporary files may be written to the disk. Simply run the software from the AutoRun menu (right click your CD-ROM symbol) or Click the .EXE file in Windows® explorer. Once the desired files are recovered you can install Data Recovery on the system.
NOTE: For using Data Recovery under Windows 10 / 8 / 7 / XP your user account must have administrator privilege.
In four steps you recover your deleted files:
Step 1: Run AppleXsoft Data Recovery Professional

Step 2: Choose your drive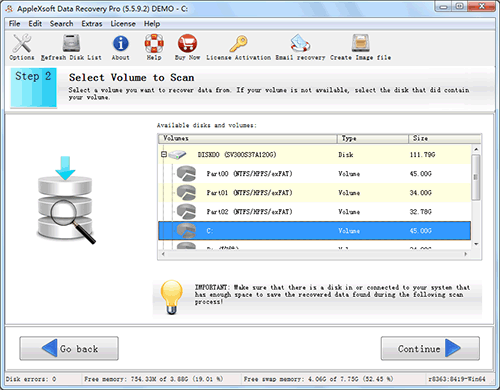 Step 3: Select your deleted files/directories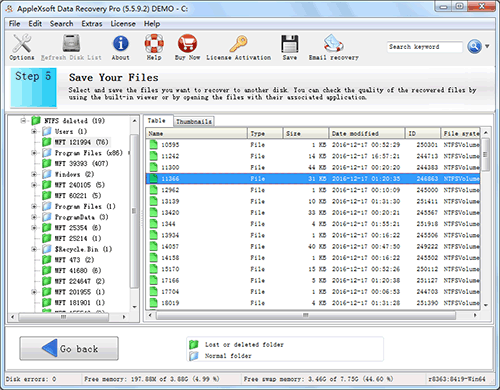 Step 4: Simply save them to another hard disk!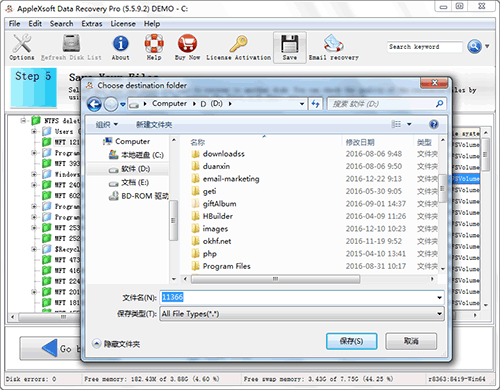 Allows recovering your data from:
Deleted, lost or damaged partition.
list Windows is damaged and system not bootable
list Lost or deleted volumes and files
list Accidental or malicious disk initializations
list Installations Gone Wrong
list Virus Attacks - Deletions
list Deletions- local or over network
list Local HDD or External drives
list Virtually Any Logical Disk Disaster