How to Move OS from HDD to New SSD?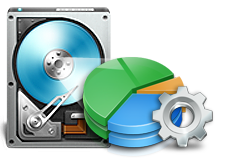 Question
Recently I bought a new SSD.So in order to open my OS faster , I want to have my OS ( Window 7) in the new SSD. But my OS is in the old HDD and I do not know how to move the whole OS from HDD to the new SSD. Is there any way to move the OS from HDD to SSD easy and fast without reinstall everything? Meanwhile, I also want to format my old HDD if the migration can be succeed so that the HDD can have more space to store other files. Can someone show me an easy way to do this step by step?
Solution
OS or hard drive migration is always needed when people buy a new computer, get new disks, backup their data or have other reasons. So there is no doubt that you can find an easy way to move your OS from HDD to SSD. The easiest and fastest way to migrate the OS without reinstall is to use professional hard drive copy software. AppleXsoft Hard Drive Copy can perfectly solve your problem by moving OS from HDD to SSD without damage as well as formatting your old HDD.
Now I will show you the detailed steps of moving OS with AppleXsoft Hard Drive Copy.
Preparation: Before using the software, you need to connect your SSD with your computer. Basically, there are two ways to connect your SSD. The first one is to connect it via USB. The second one is to connect the SSD to SATA cable. Please make sure that your SSD can be well-connected and recognized. Then, just install AppleXSoft Hard Drive and run it.
Step 1 Choose a Copy Mode
Once you open AppleXsoft Hard Drive Copy, the main screen will show as follow. So here you need to choose a copy mode that best meet your requirements at first. In order to migrate OS from HDD to SSD, we strongly recommend you to choose "One Click Disk Migration". This mode will automatically select the Operating System installed disk as a source and a blank disk as a destination. Partitions in the source disk will be proportionally expanded to the destination disk. If either an appropriate source disk or destination disk is not found, it will change to the manual mode.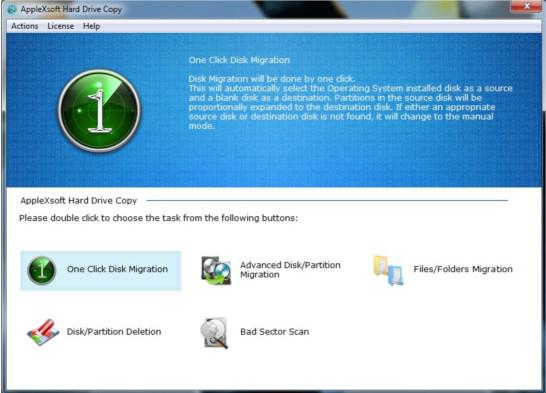 Step 2 Confirm the Settings
If you choose "One Click Disk Migration" in the first step, you will see the following interface. Here you will see the information of source hard drive and destination hard drive. Please make sure your destination hard drive(SSD) has more space then your old hard drive (HDD).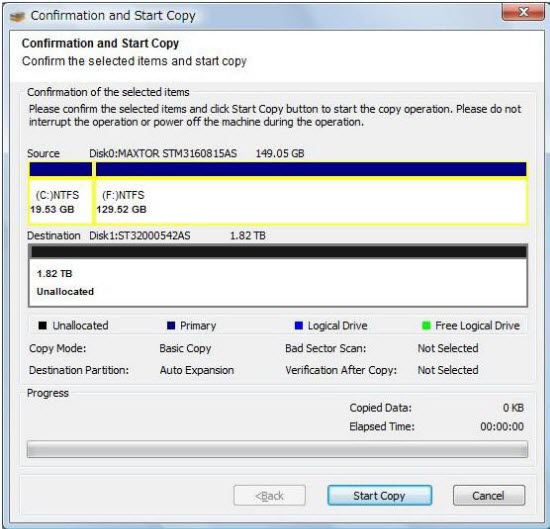 Step 3 Start the Copy
If you have confirmed the information and everything is right. You can click " Start Copy" and then the copy operation will actually start.The copy process may take long time, it depends on the size of your old HDD. Please wait until the copy is finished and do not use your computer while the copy is processing.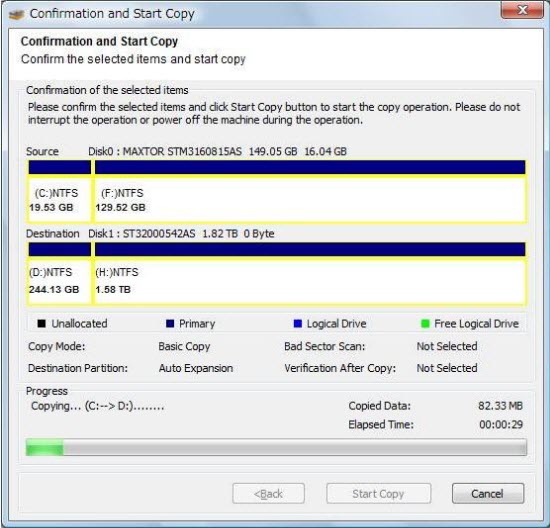 When the copy operation is complete, the following summary screen comes up. And the migration of OS from HDD to SSD is done. But you still have other things to do if your need to format your old HDD.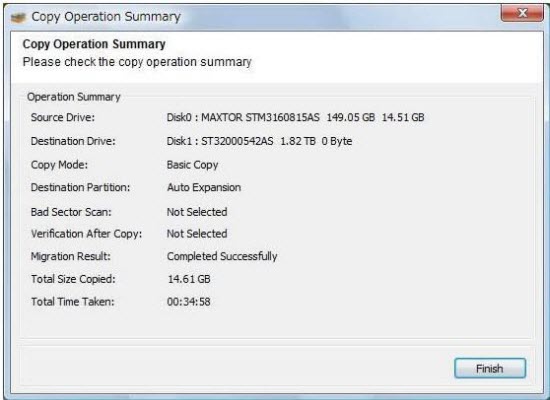 Replace Your Old Hard Drive
After you successfully moved the OS from HDD to SSD, what you need to do is replacing the old HDD. Power off the PC and remove the AC power cable from the PC. Then please remove the old disk from IDE (PATA), SATA, or SCSI cable. ( If you connected your SSD via SSD, here you need to connect it with cable). After finishing all of these , you can power on your PC and boot from the new SSD. Now you will find that your OS has been moved from HDD to this new SSD and the PC can still perform well.
Format Replaced HDD
If you want to format the removed HDD, it is also very easy. You can connect your removed HDD with computer via USB. Then you will find that you can format it now and do not worry to lose the data in it, because all the data has been copied perfectly to the new SSD.
Note:
The target hard drive should have enough space to store the data of the source hard drive.
Once you've followed these steps you have successfully learned how to Move OS from HDD to New SSD. I would recommend that you make this move on an external disc so that you can keep it as a backup for later use. Once you have the move of your hard drive you can simply plug the external drive in to your new computer and boot it to launch it. AppleXSoft Hard Drive Copy actually makes everything very simple so you don't really need a lot of technical expertise, you just need a computer and a drive big enough to store your data.
How to recover data in various cases: